COMMERCIAL PLUMBING SERVICES
Commercial Plumbing Services in San Diego
Honest, Local & Knowledgeable Plumbers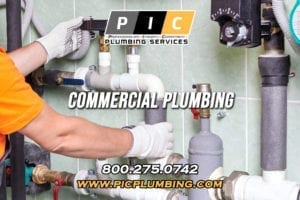 If you are a commercial business, restaurant, HOA Home Owners Association, property manager and looking for a professional plumbing company in San Diego to service your business or properties then you're in the right place. PIC Plumbing Services proudly services all of San Diego County. We are 5 STAR rated on Yelp, you can also find us on Social Media; InstaGram, TikTok, Twiiter, Pinterest and Google. and our website. Ask one of our representatives today about preventive maintenance packages and setting up a billing account today. Thank you for considering PIC Plumbing Services for all of your plumbing needs.
RIDGID Propress allows us to hydraulically press copper together instead of traditional braising or soldering methods minimizing the time your water is off for the repair.
SPARTAN 758 jetter is perfect for removing grease or build ups from your sewer main. With 3,000PSI at 12 GPM it is perfect for removing build up causing frequent back ups or as preventative maintenance through quarterly or annual maintenance packages.
RIDGID Seesnake is the industries leading inspection and location equipment. Enabling us to video inspect 2" lines up to 4" with location abilities to accurately pinpoint potential issues in your sewer system.
PIC can maintain, repair or replace your current water or sewer ejection pump, float or basin.
Traditionally digging up your sewer can be timely and intrusive with PIC Plumbing Services you have options. We can inspect your line to see if your sewer line is a candidate for a EPOXY re-lining.
We partner with the top two leak location companies in San Diego to provide you the most accurate and prompt leak location services available. We understand that time and accuracy matters when you get an unexpected flood or leak.
We install leading brand and performing commercial grade water heaters such as Bradford White, Rheem and AO Smith. Delivery and disposal is always included in our services.
Whether it poly of galvanized pipe PIC can locate and repair or reroute your gas supply line using "fusion" or "MegaPress" technology. Our plumbers will give you the best option for your needs with our free no obligation estimates.
Have pressure inconsistencies to your home or business? This could mean your PRV needs to be adjusted or replaced. Average PSI for your home or business should be 60-75psi. Too little we can adjust it, too much we can replace it. Using top manufactures in the industry such as ZURN, Caleffi or Watts we can solve the issue.
With our latest Gorlitz and RIDGID drain cleaning equipment we can provide solutions to your backed up lines. Our traditional Gorlitz machines can tackle 1 1/2" laterals to 6" sewer mains. With our RIDGID "chain Knockers" and descaling chains we can open up your cast iron drains by descaling existing cast iron build up.
Prevent you home or businesses potable water from contaminating the city supply line with a new Watts, Nibco or Wilkins backflow preventer. PIC can come out for a free no obligation estimate.
Waiting for hot water at your fixtures? Think about how much water is wasted over a years time waiting for your hot water to arrive at your fixtures. You may need to replace or install a new Grundfos recirculation pump. Ask one of our professionals about options.
If you're in the food industry then you know you need a grease trap. PIC installs top brands such as ZURN or Canplas. If its a replacement or a new install PIC can help.
Installation of a whole house water filtration system for your home or business will remove contaminates for healthier and impurity free water and can prolong the life of your fixtures and appliances.
Install "FLO" by Moen to protect your home from costly floods. This system can be controlled through Moen's App, Alexa and Google. This Smart Home system monitors and protects your home from leaks and water damage and can be controlled by a single devise.
Whether going with tankless or a standard atmospheric water heater, we install top manufactures such as Navien, Noritz, Rinnai, Bradford White, AO Smith and Rheem. Let one of our professionals help by explaining what options would be best for you.
PIC Plumbing Services is proud to be apart of San Diego Building Electrification Coalition just launched 
sdbec.org
 connecting residents with businesses that provide green alternatives to reduce climate change. Let PIC install a new hybrid heat pump water heater for you. They're 3x more efficient than your current water heater whether your using natural gas or electric.
We Stand Behind the Work that We Do
Plumbing is a day to day work for our experienced technicians. Their goal is to ensure that your plumbing system is working correctly. We always use a creative approach towards solving any type of problem. From toilet replacement to the toughest plumbing situations, we can easily take care of all the problems on urgent basis for you.
Here are some reasons why our customers love our work:
We offer honest and trustworthy service in San Diego county
24/7 services available in case of emergency
We offer warranty on all of our work
We take pride on our hard work and quality craftsmanship
Our work truly reflects the skills of our experienced technicians
Reach out to our plumbing service experts today!
We are fully committed to providing you with the plumbing services that you need in San Diego.
Coming Up with Alternative Solutions
At PIC Plumbing, we live up to the name of our company and we make this possible by providing alternative solutions to every problem in a much affordable and efficient way. Our San Diego plumbing company is determined to ensure that your pipes and all plumbing appliances are working optimally. This is the reason our customers rely on us for all of their plumbing problems that they face throughout the year.
Types of Plumbing Services We Offer
Propress Technology
Water or Sewage Ejection Pumps
Epoxy Lining
Leak Location
Commercial Water Heaters
Pressure Reducing Valves (PRV)
Recirculation Pumps
Grease Traps
Whole House Water Filtration Systems
Smart Water Shutoff System
Green Options
Offering 24/7 Emergency Services
If you ever face a plumbing emergency situation at your business or commercial facility, you should do two things. First, stay calm. Second, reach for your phone to call us. We offer 24/7 plumbing services and can tackle virtually any plumbing emergency service that you might be facing.
In case it is a burst pipe, quickly turn water shut-off valves off as soon as possible, if it is safe for you to do so. If you stop the use of plumbing fixtures, this would be perfect until we arrive at your location. We are on of the best plumbing services company in San Diego. You should call us right away to get a free plumbing service estimate from our top-rated plumbers.
As a team that is dedicated to easing your troubles with our water, sewer, and gas line services, you can trust PIC Plumbing. Contact us at any time.