EPOXY PIPE LINING PLUMBING SERVICE
Epoxy Pipe Lining San Diego
Honest, Local & Knowledgeable Plumbers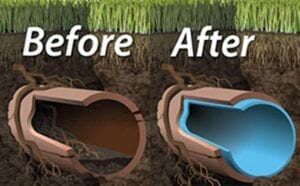 Epoxy pipe lining is a trenchless sewer repair form that creates a brand new pipe inside of your old one. It's easy, clean, and fast! The process involves no trenches and very minimal digging. If you have damaged pipes, epoxy pipe lining is the perfect solution for you. This process will save time and money while also being environmentally friendly. You won't have to worry about any more sewage seeping into your home or yard because we'll take care of it all with our epoxy pipe lining service.
Pipe lining is the process of inserting an epoxy-impregnated liner into your old pipe. This liner will take its shape and form to the inside walls of your pipes, restoring their original diameter. It's non-invasive, safe cleaning solution that clears out any clogs in your lines. The best part about it is that this service can be done without digging up your yard or disrupting traffic flow on busy streets! The entire process takes place underground, so there's no mess for you to clean up at home either.
Epoxy pipe lining is an alternative to traditional methods of repairing or replacing pipes. It is a cost-effective and environmentally friendly way to extend the life of your pipeline without having to dig up your yard or spend hours in a trench with heavy equipment. The process can be completed quickly and easily, often in just one day. You won't need any more sleepless nights worrying about burst pipes flooding your home. With epoxy pipe lining, you'll never have to worry about that again. And if you're worried about the long-term effects on our environment, don't be – this method uses less water than traditional methods and has no negative impact on groundwater quality. This means it's safe for both people and our planet.
The pros of epoxy pipe lining
Here are the pros of epoxy pipe lining and why it's one of the best sewer repair options.
Cost-effective – Replacing pipes is expensive and time-consuming. That's why we offer epoxy pipe lining, which can save homeowners 30 to 40% compared to traditional dig-up and replacement costs. Fewer hours are needed to complete the project, which means the cost of labor also goes down.
Non-invasive – Epoxy pipe lining is the most effective way to fix leaks without digging up your floors, walls or ceilings. It's also more cost-effective than traditional methods because it doesn't require any excavation. Plus, epoxy pipe lining can be done with existing access points so there's no need for new holes in your home.
Eco-friendly – Epoxy lining is the best way to fix your leaky pipes. It's an environmentally-friendly solution that doesn't create any waste or emissions and can be applied in just one day. You won't need to worry about leaks for years, so it will save you money on water bills and repairs.
Fast – Pipe lining is an innovative process that uses epoxy resin as a coating inside pipes with defects or leaks. The epoxy resin cures into a hard material that seals cracks and prevents future leaks from occurring. It's faster than traditional methods because it only takes two days to complete instead of up to six weeks like conventional methods do!
Long-lasting – Epoxy pipe lining is the perfect solution. It's durable and corrosion-resistant, so it will last up to 50 years. The brand new pipe is also easy to install with minimal disruption on your property. And because epoxy pipe lining is done by a properly trained and certified contractor, there are no worries about leaks or other issues down the road.

The cons of epoxy pipe lining
Pipe requirements – Epoxy pipe lining is the perfect solution. It's an innovative, cost-effective way to fix pipes that are NOT collapsing or back pitched. This process involves installing a liner inside the existing pipe and then filling it with epoxy resin. The result is a strong, durable, watertight seal that will last for decades without maintenance.
Downtime – The epoxy in the CIPP can take up to one day to cure. But this is still faster than conventional methods. You don't have to worry about waiting days or weeks for your pipes and drains to be repaired; we can get it done right away!

Pipes that do not work – Epoxy pipe lining is a cost-effective solution for repairing leaking pipes without having to replace them entirely, but only certain types of pipes qualify for this treatment. If your pipe has been damaged by hydro-jetting or if it's made from Orangeburg (tarpaper) material, then it won't work well with epoxy pipe lining. And if your diameter falls below 2 inches, then you'll also be out of luck because this method doesn't work very well on smaller diameters either! Make sure you're aware of these limitations before deciding whether or not to line your own pipes with epoxy.
Permanent – Epoxy pipe lining is permanent and will last for years without any maintenance or repair. It's also easy to install and can be done in just one day. You won't have to worry about leaks again.

Advanced work – Epoxy pipe lining is a process that can be done improperly. For example, using the pull in place method in vertical stacks can lead to liners slipping. UV curing can cause shrinkage of the liner, creating an annular space that allows for movement of the liner or hydrostatic pressure to build up, potentially causing issues.
We are experts at epoxy pipe lining and have been doing it for over 20 years with no failures! Our team has extensive knowledge on how to do it right and will ensure your pipes are protected against leaks and other damages. Contact us today if you want your pipes lined with epoxy! We offer free quotes so don't hesitate to reach out!
We Stand Behind the Work that We Do
Plumbing is a day to day work for our experienced technicians. Their goal is to ensure that your plumbing system is working correctly. We always use a creative approach towards solving any type of problem. From toilet replacement to the toughest plumbing situations, we can easily take care of all the problems on urgent basis for you.
Here are some reasons why our customers love our work:
We offer honest and trustworthy service in San Diego county
24/7 services available in case of emergency
We offer warranty on all of our work
We take pride on our hard work and quality craftsmanship
Our work truly reflects the skills of our experienced technicians
Reach out to our plumbing service experts today!
We are fully committed to providing you with the plumbing services that you need in San Diego.
Coming Up with Alternative Solutions
At PIC Plumbing, we live up to the name of our company and we make this possible by providing alternative solutions to every problem in a much affordable and efficient way. Our San Diego plumbing company is determined to ensure that your pipes and all plumbing appliances are working optimally. This is the reason our customers rely on us for all of their plumbing problems that they face throughout the year.
Types of Plumbing Services We Offer
Propress Technology
Water or Sewage Ejection Pumps
Epoxy Lining
Leak Location
Commercial Water Heaters
Pressure Reducing Valves (PRV)
Recirculation Pumps
Grease Traps
Whole House Water Filtration Systems
Smart Water Shutoff System
Green Options
Offering 24/7 Emergency Services
If you ever face a plumbing emergency situation at your business or commercial facility, you should do two things. First, stay calm. Second, reach for your phone to call us. We offer 24/7 plumbing services and can tackle virtually any plumbing emergency service that you might be facing.
In case it is a burst pipe, quickly turn water shut-off valves off as soon as possible, if it is safe for you to do so. If you stop the use of plumbing fixtures, this would be perfect until we arrive at your location. We are on of the best plumbing services company in San Diego. You should call us right away to get a free plumbing service estimate from our top-rated plumbers.
As a team that is dedicated to easing your troubles with our water, sewer, and gas line services, you can trust PIC Plumbing. Contact us at any time.