GREASE TRAP INSTALLATION SAN DIEGO
San Diego Grease Trap Installation
Honest, Local & Knowledgeable Plumbers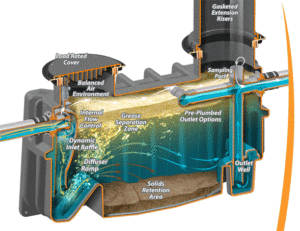 Grease traps are a kitchen's most valuable asset if you own a restaurant or commercial kitchen in San Diego. If you don't maintain it, your grease trap can cause unpleasant odors and even shut-downs. PIC is here to help with expert grease trap installation services that keep your trap in prime condition so you have one less thing to worry about. A well-maintained grease trap will prevent many issues from happening, such as unpleasant odors and even shut-downs. With our professional service, we make sure the job is done right the first time so you can enjoy all of its benefits without any worries or problems. We offer high quality work for commercial customers. Our team has years of experience working on these types of jobs, which means we know what needs to be done and how best to do it quickly and efficiently every time.
What is a grease trap?
Grease traps are an important part of the plumbing system in commercial kitchens. Grease traps collect and store FOG Fat, Oil and Grease, preventing it from entering the wastewater system. They're also required by many cities to be used in commercial kitchens. Grease traps are a requirement for all food service facilities. Grease traps help to remove fat, oil and grease from kitchen drain lines before they enter the sewer system. If not removed FOG can congeal within pipes and cause backups. This is why it's important to have an effective grease trap installed in your facility.
What Size Grease Trap Do I Need?
Our commercial plumbing services are professional and efficient, and we'll ensure that you're able to get back to business as quickly as possible. Our crews are trained and background checked, so you can trust that your facility will be in good hands. That's why we offer professional grease trap installation services that will keep everything running smoothly at all times. We'll take care of everything from start to finish so you don't have to worry about anything but what really matters – running your business!
We Stand Behind the Work that We Do
Plumbing is a day to day work for our experienced technicians. Their goal is to ensure that your plumbing system is working correctly. We always use a creative approach towards solving any type of problem. From toilet replacement to the toughest plumbing situations, we can easily take care of all the problems on urgent basis for you.
Here are some reasons why our customers love our work:
We offer honest and trustworthy service in San Diego county
24/7 services available in case of emergency
We offer warranty on all of our work
We take pride on our hard work and quality craftsmanship
Our work truly reflects the skills of our experienced technicians
Reach out to our plumbing service experts today!
We are fully committed to providing you with the plumbing services that you need in San Diego.
Coming Up with Alternative Solutions
At PIC Plumbing, we live up to the name of our company and we make this possible by providing alternative solutions to every problem in a much affordable and efficient way. Our San Diego plumbing company is determined to ensure that your pipes and all plumbing appliances are working optimally. This is the reason our customers rely on us for all of their plumbing problems that they face throughout the year.
Types of Plumbing Services We Offer
Propress Technology
Water or Sewage Ejection Pumps
Epoxy Lining
Leak Location
Commercial Water Heaters
Pressure Reducing Valves (PRV)
Recirculation Pumps
Grease Traps
Whole House Water Filtration Systems
Smart Water Shutoff System
Green Options
Offering 24/7 Emergency Services
If you ever face a plumbing emergency situation at your business or commercial facility, you should do two things. First, stay calm. Second, reach for your phone to call us. We offer 24/7 plumbing services and can tackle virtually any plumbing emergency service that you might be facing.
In case it is a burst pipe, quickly turn water shut-off valves off as soon as possible, if it is safe for you to do so. If you stop the use of plumbing fixtures, this would be perfect until we arrive at your location. We are on of the best plumbing services company in San Diego. You should call us right away to get a free plumbing service estimate from our top-rated plumbers.
As a team that is dedicated to easing your troubles with our water, sewer, and gas line services, you can trust PIC Plumbing. Contact us at any time.