COMMERCIAL GAS LINE REPAIR & INSTALLATION SAN DIEGO
San Diego Commercial gas Line Repair and Installation
Honest, Local & Knowledgeable Plumbers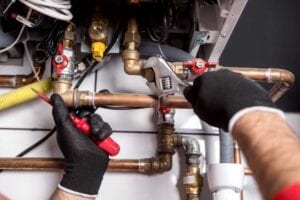 Does your business, restaurant or commercial building have a gas line problem in San Diego? Gas lines are an integral part of your commercial property. They provide the fuel for heating, cooking, and powering equipment in your building. If there is a leak or break in the line, it can lead to catastrophic consequences for both employees and customers. It's important that you take care of these issues before they become too big to handle on your own. That's why we offer installation and repair services for all types of gas lines – from residential to commercial properties. We will inspect your current system as well as any new construction projects so that we can ensure everything is up-to-date with code requirements and safety standards. Our technicians are trained, certified, and qualified to assist with all aspects of your commercial gas plumbing needs
Gas Line Maintenance
Gas lines are essential to the operation of many commercial and industrial buildings, but they need routine maintenance. Annual inspections with check-ups in between keep your system working safely and efficiently. If a problem goes unnoticed, it can lead to costly repairs down the line or potentially dangerous situations. We offer comprehensive gas line maintenance services for all types of businesses including restaurants, schools, office buildings, warehouses and more.
Gas Line Repair
Gas line repair is a serious matter. Commercial gas plumbing repairs are not something you want to take lightly. You need the right people for the job, and that's where we come in. We have years of experience with commercial gas plumbing repairs and can help you find out if your business needs any work done as soon as possible. If you don't know what to do about your broken or cracked gas lines, call us today! Our experts will be able to assess the situation and provide an estimate on how much it would cost for our services. Don't wait until there is a major problem before getting it fixed because then it could become more expensive than necessary.
Gas Line Installation
We've been installing commercial gas lines for many years. Our team of plumbers are here to help with any project, big or small. Whether it's a new construction site or an existing business, we can handle the job quickly and efficiently. You don't have to worry about safety because our technicians are trained in all aspects of commercial plumbing installation.
Risk of Poor Installation
If you smell gas, call the fire department immediately. Gas leaks can be dangerous and costly. That's why it's important to have a certified professional install your gas line and plumbing. We offer free estimates for all of our services so you know what to expect before we start work on your home or business. You don't want to risk an explosion in your building because of a faulty gas line installation or repair job that wasn't done correctly by someone who doesn't know what they're doing. Trust us with this one – we've been installing and repairing lines for many years. And if there's ever any problem with the installation, maintenance, or repairs, we'll fix it at no additional cost to you! With our 100% satisfaction guarantee, there's nothing holding you back from hiring us today.
Carbon monoxide leaks are dangerous and can be deadly. They're odorless and tasteless, so it's important to have the proper detectors in place. We make sure to check our work for gas and other plumbing services done for your business. We also offer maintenance services to ensure that everything is working properly at all times.
What to Do if You Smell Gas
We offer annual inspections as well as routine checks for leaks and other potential issues with your gas plumbing system so you know it's always safe for use by employees, customers, or residents. You don't want any accidents happening because of faulty pipes!
We Stand Behind the Work that We Do
Plumbing is a day to day work for our experienced technicians. Their goal is to ensure that your plumbing system is working correctly. We always use a creative approach towards solving any type of problem. From toilet replacement to the toughest plumbing situations, we can easily take care of all the problems on urgent basis for you.
Here are some reasons why our customers love our work:
We offer honest and trustworthy service in San Diego county
24/7 services available in case of emergency
We offer warranty on all of our work
We take pride on our hard work and quality craftsmanship
Our work truly reflects the skills of our experienced technicians
Reach out to our plumbing service experts today!
We are fully committed to providing you with the plumbing services that you need in San Diego.
Coming Up with Alternative Solutions
At PIC Plumbing, we live up to the name of our company and we make this possible by providing alternative solutions to every problem in a much affordable and efficient way. Our San Diego plumbing company is determined to ensure that your pipes and all plumbing appliances are working optimally. This is the reason our customers rely on us for all of their plumbing problems that they face throughout the year.
Types of Plumbing Services We Offer
Propress Technology
Water or Sewage Ejection Pumps
Epoxy Lining
Leak Location
Commercial Water Heaters
Pressure Reducing Valves (PRV)
Recirculation Pumps
Grease Traps
Whole House Water Filtration Systems
Smart Water Shutoff System
Green Options
Offering 24/7 Emergency Services
If you ever face a plumbing emergency situation at your business or commercial facility, you should do two things. First, stay calm. Second, reach for your phone to call us. We offer 24/7 plumbing services and can tackle virtually any plumbing emergency service that you might be facing.
In case it is a burst pipe, quickly turn water shut-off valves off as soon as possible, if it is safe for you to do so. If you stop the use of plumbing fixtures, this would be perfect until we arrive at your location. We are on of the best plumbing services company in San Diego. You should call us right away to get a free plumbing service estimate from our top-rated plumbers.
As a team that is dedicated to easing your troubles with our water, sewer, and gas line services, you can trust PIC Plumbing. Contact us at any time.