FLO SMART WATER SHUT OFF SYSTEM INSTALLATION SAN DIEGO
San Diego Smart Water Shut Off System
Honest, Local & Knowledgeable Plumbers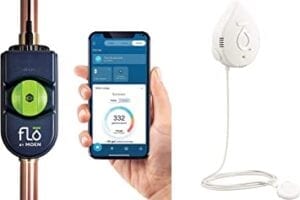 Do you want to avoid costly water damage in San Diego? PIC Plumbing can install "FLO", Moen's Smart Water Shutoff system. It is the best way to protect your home from water damage. It runs daily Health Tests of your home's interior plumbing and will automatically shut off your water in emergencies. Combine with Moen's award-winning Smart Water Detectors for maximum protection against fixture leaks. The Smart Water Shutoff is a must-have device for any homeowner who wants to avoid costly water damage, or just wants peace of mind that their house is protected from leaks and other disasters. With this device, you'll never have to worry about coming home after work and finding out that there was an emergency situation because the Smart Water Shutoff has already taken care of it!
How Does FLO Water Shutoff System Work?
FEATURES
One Shutoff continuously monitors your entire home's water pressure, flow rate, and area temperature.
MicroLeak™ technology runs automatic Health Tests daily to identify any leaks behind your walls, down to a drip per minute.
Proprietary FloSense™ AI, your Shutoff learns the unique water footprint of your home to better identify danger, keeping you safer, faster.
Every Shutoff comes with industry-leading water damage prevention support to assist with alerts and best practices.
COMMON QUESTIONS
What is the Shutoff and Detector compatibility?
While the Smart Water Shutoff monitors your home plumbing for signs of compromise and dangerous leaks, it can't always detect fixture failure. Things like water heaters, sink drains, and refrigerators breakdown and leak outside of your core plumbing.
Is there a monthly fee?
Nope! As of August 17th, 2020, Moen discontinued the monthly subscription needed to unlock advanced data features. All features and data are now freely available to all Shutoff users.
Will it shut off the water for something like a dripping faucet?
No. You will also have full control over sensitivity levels for your home and when you should be alerted.
Does the Shutoff need Wi-Fi?
The Shutoff does require a normal 2.4 GHz Wi-Fi connection to setup and maintain consistent software updates. NOTE: The Smart Water Shutoff is Wi-Fi enabled, not dependent. Your water usage data is stored locally on the device in case of Wi-Fi outages.
Get peace of mind knowing that if a leak ever occurs, the system will detect it and turn off the water before any serious damage can happen. You'll never have to worry about waking up one morning to find out that someone left a faucet running all night or there was an unexpected pipe breakage in the middle of the night. Call PIC Plumbing today!
We Stand Behind the Work that We Do
Plumbing is a day to day work for our experienced technicians. Their goal is to ensure that your plumbing system is working correctly. We always use a creative approach towards solving any type of problem. From toilet replacement to the toughest plumbing situations, we can easily take care of all the problems on urgent basis for you.
Here are some reasons why our customers love our work:
We offer honest and trustworthy service in San Diego county
24/7 services available in case of emergency
We offer warranty on all of our work
We take pride on our hard work and quality craftsmanship
Our work truly reflects the skills of our experienced technicians
Reach out to our plumbing service experts today!
We are fully committed to providing you with the plumbing services that you need in San Diego.
Coming Up with Alternative Solutions
At PIC Plumbing, we live up to the name of our company and we make this possible by providing alternative solutions to every problem in a much affordable and efficient way. Our San Diego plumbing company is determined to ensure that your pipes and all plumbing appliances are working optimally. This is the reason our customers rely on us for all of their plumbing problems that they face throughout the year.
Types of Plumbing Services We Offer
Propress Technology
Water or Sewage Ejection Pumps
Epoxy Lining
Leak Location
Commercial Water Heaters
Pressure Reducing Valves (PRV)
Recirculation Pumps
Grease Traps
Whole House Water Filtration Systems
Smart Water Shutoff System
Green Options
Offering 24/7 Emergency Services
If you ever face a plumbing emergency situation at your business or commercial facility, you should do two things. First, stay calm. Second, reach for your phone to call us. We offer 24/7 plumbing services and can tackle virtually any plumbing emergency service that you might be facing.
In case it is a burst pipe, quickly turn water shut-off valves off as soon as possible, if it is safe for you to do so. If you stop the use of plumbing fixtures, this would be perfect until we arrive at your location. We are on of the best plumbing services company in San Diego. You should call us right away to get a free plumbing service estimate from our top-rated plumbers.
As a team that is dedicated to easing your troubles with our water, sewer, and gas line services, you can trust PIC Plumbing. Contact us at any time.