San Diego Leak Detection
Honest, Local & Knowledgeable Plumbers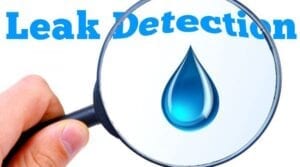 Do you have a leak in your home or business in San Diego? Leak detection is the process of finding and repairing leaks. It can be done by using different methods, such as listening for escaping air, looking for wet spots on floors, or checking water bills. If you are not sure that there is a plumbing leak at your home or business, do not worry and let us handle it. Call PIC Plumbing Leak Detection for the best leak detection services at affordable rates. We have the required material and equipment, the best service, and a trained team to quickly detect the problem and solve it on spot. You won't need to worry about any more expensive repairs because we will find out what needs fixing before anything gets worse. Leaks are the number one cause of water damage in homes. The sooner you find and fix your leak, the less likely it is to do serious damage to your home or business. We've got all the tools and expertise needed to detect leaks quickly and efficiently so that they don't turn into a disaster.
Ways to Find Water Leaks
What Causes Plumbing Leaks?
Damaged or poor-quality gaskets
Ball, container, and disk nozzles with worn O-rings
Worn Inlet and outlet seals (disc-style faucets)
Residue build-up
Worn O-Rings in cartridge style nozzles
Old or worn ball socket seal
We help you find and fix leaks in your plumbing system quickly, affordably, and without any surprises. We'll tell you exactly what the problem is before we start work so there are no hidden fees or unpleasant surprises. And our prices are competitive with other companies in the area. Leaks could be in the form of a sink leaking, or the nozzles or faucets leaking, kitchen or bathroom leaking. There should be some water-saving techniques and methods everyone should know and follow to conserve water and energy. Leaks tend to occur commonly at home and are a common plumbing problem. They increase the water bill and can compromise the home's foundation.
Some areas where leaks are common are:
Appliances
Water Heater/Tankless water heater
Sump Pump
Sinks
Showers
Pipes
Reasons you may need emergency leak repair:
Flooring Damage – Gravity pulls water to the floor, causing it to seep below floorboards and floors. If left unaddressed, it can be the source of foundations to crack, mildew development, and more.
Wall Damage – Much of a home's plumbing is set behind the walls. When a pipe bursts or has a leak, it can soak through the drywall, causing the building to deteriorate or collapse.
Mildew Issues – Mildew flourishes in humid air. Pooling water in your walls or floors can encourage such growth, risking your health.
Wasted Water – It is ecologically neglectful in leaving leaks un-repaired. Not only does it hurt the earth, but it increases your water bill, which is money down the drain.
How do I know if I have a leak?
Check your water bill – Leaks can be a nuisance, but they also cause damage to the home or business. Water damage isn't about just drying up after water leaks; it does more than that. It rots away the wood, the floors, and where it stays for long periods of time, leading to long-term damage and costs. A small or noticed leak can result in hefty expenses so it is always better to consult a plumbing company right away. You should call us the minute you see any pipe, shower, or nozzle leaking. It causes an upsurge in your water bill too!
Damage to appliances – You may not know it, but your kitchen and bathroom basins are linked to the rest of the plumbing in the home. That means that if you have a leak in one site, it can spread and cause more significant damage through the rest of your house. It would help if you looked out for any usual appliances like fridges or dishwashers – you may see indications of water damage in or around them if you have difficulties with your plumbing.
Leak Detection Services:
Commercial Leak Detection
Crawl Space Leak Detection
Emergency Leak Detection
Gas Leak Detection, Repair, Installation
High Water Bill Detection
Infrared Leak Detection
Kitchen Leak Detection
Leak Repair
Moisture Detection
Mystery Leak Detection
Sewer Camera Inspection
Sewer Line Leak Repair
Sewer Odor Detection
Sinks and Showers Leak Detection
Slab Leak Detection
Thermal Imaging Leak Detection
Water Heater Leak Detection
Call us today! We're experts at finding leaks and repairing them quickly so they don't become an even bigger problem for your home. Our team will be happy to come over and inspect all aspects of your plumbing system to make sure everything is running smoothly before we leave (and after). We'll also give you some tips on how to spot potential problems before they happen too! Call our office now for a free consultation about leak detection services.
We Stand Behind the Work that We Do
Plumbing is a day to day work for our experienced technicians. Their goal is to ensure that your plumbing system is working correctly. We always use a creative approach towards solving any type of problem. From toilet replacement to the toughest plumbing situations, we can easily take care of all the problems on urgent basis for you.
Here are some reasons why our customers love our work:
We offer honest and trustworthy service in San Diego county
24/7 services available in case of emergency
We offer warranty on all of our work
We take pride on our hard work and quality craftsmanship
Our work truly reflects the skills of our experienced technicians
Reach out to our plumbing service experts today!
We are fully committed to providing you with the plumbing services that you need in San Diego.
Coming Up with Alternative Solutions
At PIC Plumbing, we live up to the name of our company and we make this possible by providing alternative solutions to every problem in a much affordable and efficient way. Our San Diego plumbing company is determined to ensure that your pipes and all plumbing appliances are working optimally. This is the reason our customers rely on us for all of their plumbing problems that they face throughout the year.
Types of Plumbing Services We Offer
Propress Technology
Water or Sewage Ejection Pumps
Epoxy Lining
Leak Location
Commercial Water Heaters
Pressure Reducing Valves (PRV)
Recirculation Pumps
Grease Traps
Whole House Water Filtration Systems
Smart Water Shutoff System
Green Options
Offering 24/7 Emergency Services
If you ever face a plumbing emergency situation at your business or commercial facility, you should do two things. First, stay calm. Second, reach for your phone to call us. We offer 24/7 plumbing services and can tackle virtually any plumbing emergency service that you might be facing.
In case it is a burst pipe, quickly turn water shut-off valves off as soon as possible, if it is safe for you to do so. If you stop the use of plumbing fixtures, this would be perfect until we arrive at your location. We are on of the best plumbing services company in San Diego. You should call us right away to get a free plumbing service estimate from our top-rated plumbers.
As a team that is dedicated to easing your troubles with our water, sewer, and gas line services, you can trust PIC Plumbing. Contact us at any time.