WATER / SEWAGE EJECTION PUMP
Water / Sewage Ejection Pump Service San Diego
Honest, Local & Knowledgeable Plumbers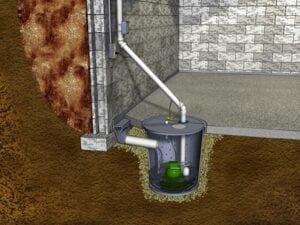 If you have a plumbing fixture that is below the level of your main sewer line, then you need an ejector pump. Ejection pumps are used to elevate wastewater so it can flow down and out properly. They work by sucking water from the toilet or other plumbing fixtures up into a holding tank using suction created by air pressure, which forces the water through pipes and out of the house. The pump-up ejector system is designed for use with gravity-fed systems where fixtures are located below the level of the main sewer line. It's important to note that this system does not work in homes with pressurized sewage lines because they don't rely on gravity to move waste away from them.
What Is a Sewage Ejector Pump?
The principle of a sewage ejector pump is similar to how a groundwater sump pump operates, but instead of rainwater seepage being pumped out of the home, it is waste/sewage being lifted up and out into the main sewer lines or septic field. Sewage ejector pumps are used when there is no other way for wastewater to be removed from an area. This includes homes with no access to public sewers or homes that are located on high ground where gravity-fed systems cannot function properly.
Most commonly, ejector pumps are used in homes with basement bathrooms or laundry rooms. Ejector pumps are typically used when the municipal sewer lines running to the street are at a higher level than the fixture. They serve to pump both liquids and solids up into the sewer line so it can flow properly. Ejector pumps also very common in septic drain-fields, such as those found in rural locations where the septic drainage field or holding tank may be considerably higher than basement plumbing fixtures.
Sewage ejector pumps are meant to sit in a sump basin that is cut and dug into the ground below grade. This sump basin collects and holds about 30 gallons of waste, on average, for a moderate-sized home. The drain lines from the various fixtures in the basement area are sloped down into the side of the sump basin, and when the level of wastewater in the sump basin reaches a certain height, a moveable float on the sewage ejector pump starts it up. The wastewater is then pumped out of the basin and up to your sewer or septic line. Once this level goes down again, so does your water pressure – which means no more clogged drains!
System Requirements
Ejector pumps are used to remove wastewater from the sump basin of a septic tank. They are connected to an existing vent (soil) stack or run up and through the roof. The outlet pipe leaving the sewage ejector pump is usually 2 inches in diameter, connecting to the 3-inch main sewer line. Between the pump outlet point and the junction with the main sewer line, there is always a check valve to make sure that nothing drains back into it after wastewater has been pumped out. When installing an ejector pump, be sure to use only high quality parts for your safety and peace of mind.
Planning Considerations
Before starting a project that requires the installation of a sewage ejector pump, it is important to check with your local building department. Different communities may have unique plumbing and building codes and permit requirements. Any work involving septic or sewer lines is likely to require a permit, and for good reason- improper installation can result in quite the mess. To be safe, find out what is required to install an sewage ejector pump legally before you begin. Get an estimate from a licensed plumber before deciding to do this project yourself- as this is fairly advanced plumbing work!
Ejector pumps are used in many different industries including commercial buildings, hospitals, schools, restaurants and more. They are often installed by professional plumbers who specialize in wastewater systems but they can also be installed by homeowners with some experience working on their own plumbing system or other professionals such as electricians or carpenters who know how to install pipes correctly without damaging them.
A properly functioning sewage ejector pump will help keep your home's water clean while protecting groundwater sources from contamination caused by improperly disposed waste water which could lead to illness if ingested untreated water containing bacteria like salmonella or e coli. Ejector pumps are designed for residential and light commercial use. They're not meant for heavy duty industrial applications or large basins that require more than 3/4 horsepower of pumping power. If you have a larger basin with higher liquid levels, we recommend installing an electric submersible pump instead.
Sewage ejector pumps are available at local home improvement stores, online, and through your local plumbing supply house. They are also available for commercial applications, but these require a much larger sump basin. Prices for the kits typically run from about $400 to nearly $1,000 depending on size requirements and features desired such as installation kit or power cord length. This is not an installation you want to repair though so make sure you buy quality equipment that is large enough for your home!
But if you need an ejector pump system in your home or business, we've got what you're looking for! We offer quality products at competitive prices so that everyone can afford them – no matter how big their budget is! Plus, our customer service team is always available to answer any questions about installation and maintenance of our products! So don't hesitate – get in touch today!
We Stand Behind the Work that We Do
Plumbing is a day to day work for our experienced technicians. Their goal is to ensure that your plumbing system is working correctly. We always use a creative approach towards solving any type of problem. From toilet replacement to the toughest plumbing situations, we can easily take care of all the problems on urgent basis for you.
Here are some reasons why our customers love our work:
We offer honest and trustworthy service in San Diego county
24/7 services available in case of emergency
We offer warranty on all of our work
We take pride on our hard work and quality craftsmanship
Our work truly reflects the skills of our experienced technicians
Reach out to our plumbing service experts today!
We are fully committed to providing you with the plumbing services that you need in San Diego.
Coming Up with Alternative Solutions
At PIC Plumbing, we live up to the name of our company and we make this possible by providing alternative solutions to every problem in a much affordable and efficient way. Our San Diego plumbing company is determined to ensure that your pipes and all plumbing appliances are working optimally. This is the reason our customers rely on us for all of their plumbing problems that they face throughout the year.
Types of Plumbing Services We Offer
Propress Technology
Water or Sewage Ejection Pumps
Epoxy Lining
Leak Location
Commercial Water Heaters
Pressure Reducing Valves (PRV)
Recirculation Pumps
Grease Traps
Whole House Water Filtration Systems
Smart Water Shutoff System
Green Options
Offering 24/7 Emergency Services
If you ever face a plumbing emergency situation at your business or commercial facility, you should do two things. First, stay calm. Second, reach for your phone to call us. We offer 24/7 plumbing services and can tackle virtually any plumbing emergency service that you might be facing.
In case it is a burst pipe, quickly turn water shut-off valves off as soon as possible, if it is safe for you to do so. If you stop the use of plumbing fixtures, this would be perfect until we arrive at your location. We are on of the best plumbing services company in San Diego. You should call us right away to get a free plumbing service estimate from our top-rated plumbers.
As a team that is dedicated to easing your troubles with our water, sewer, and gas line services, you can trust PIC Plumbing. Contact us at any time.